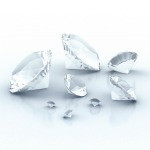 Well, the answer, it would seem, is it depends on the color.
I grew up with the concept that the more pure the diamond–the more clarity and clearness without flaws–the more rare it is, and therefore, the more expensive.
And, a little research on the Internet seems to confirm those old thoughts.
Sure enough, yellow color in a diamond is considered a negative, an impurity. Something about too much nitrogen.
And brown diamonds are firmly lodged at the bottom of the desirability list.
Read more

→