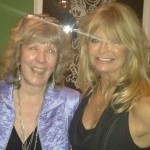 I had dinner with Goldie Hawn recently. It's true! 🙂
Goldie was in town for a dinner to raise funds for The Hawn Foundation, the organization she set up ten years ago dedicated to providing children with the social and emotional skills they need to live smarter, happier, healthier lives.
In particular, she was promoting their signature MindUP Curriculum–lessons that foster self-awareness, focused attention, and emotion-regulation as well as the necessary social and emotional learning necessary for academic success.
The event was held at the Park Tavern Restaurant in historic North Beach on Washington Park Square in San Francisco.
Read more

→