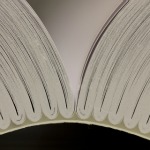 I am a bookaholic.
I used to get very nervous and my anxiety level would rise when the number of books under my bed dropped below 25. (Now I get that feeling when the number of books in my iPad drops below 25.)
And what are those 25 titles?
A smattering of science-fiction fantasies, leadership training, biographies, psychology textbooks, historical romances, and, more recently, even business management texts. All stashed for easy retrieval.
What makes a bookaholic?
In my case, probably two major influences. The first was that my parents did not buy a TV until I was 17; I read for entertainment. The second was related to being an only child who spent a lot of time in an adult world. To busy myself while Mom shopped, I read. I read while Dad put gas in the car and I read while my parents socialized. I read a lot.
Another contribution my parents made to enabling my reading addiction was the freedom to be my own censor. Never was I told that a book was too old, too young, too controversial. Therefore, reading was a rare opportunity to do a lot of thinking – the soul-searching type.
A book is a wonderful place to have an argument – a place to examine your prejudices and shed them when necessary, a place to develop tolerance for those whose perceptions and experiences are different from your own.
Reading, in my opinion, brings pleasure, information, adventure and understanding. In turn, critical interpretations bring creative and responsible thinking. Creative and responsible thinking produces mature, contributing, change-making adults. Therefore, we should invest much in reading program design. There is no greater return on investment (ROI.)
All of this has lead to some strong personal opinions about teaching reading to gifted students, opinions I am quite happy to hold forth on to anyone who cares to listen. And so, as I have you as a captured audience, here goes, along with some book suggestions for your gifted reader…
In my (extremely strong) opinion, reading programs for gifted children should:
1. Be extremely fluid and non-repetitive; fresh, flexible material will sustain his/her versatile and inquisitive nature.

First the Egg, Laura Seeger

Magic School Bus books

Time's Big Book of Why
Hundreds of questions, both silly and serious, and their answers.

Regarding the Fountain, Kate Klise.
A light-hearted mystery novel told through letters, memos, news articles, etc.

Life as We Knew It, Susan Beth Pfeffer.
Older, tough; written in diary form, a family facing the end of the world, working to sustain hope.
2. Eliminate, as much as possible, routinized and monotonous learning experiences; hands on manipulative activities should accompany reading assignments.

The Lion and the Mouse, Jerry Pinkney
The version without words creates a reading situation in which the readers must supply the story to accompany the beautiful, emotion-filled art.

Discovering Great Artists, Maryann F. Kohl
Learn a bit about an artist, their style, then follow an activity to mimic their work. Best if accompanied by a full color book so parent and child can spend time with strong visuals.

Time for Kids, Big Book of Science Experiments

Crazy Concoctions: a Mad Scientist's Guide to Messy Mixtures, Jordan D. Brown
3. Stimulate curiosity and generate multiple questions that will encourage additional investigation and exploration.

Diary of a Worm or Diary of a Spider, Doreen Cronin and Harry Bliss

Percy Jackson series, Rick Riordan
(Based on Greek myths)

To Kill a Mockingbird, Harper Lee
4. Encourage the soaring of the imagination; the flexing of the "what if" possibilities.

Once a Mouse, Marcia Brown
An Indian folktale told partially through language and partially through woodcuts. Won the Caldecott Medal.

Elmer and the Dragon
For the very young. A chapter book that can be read aloud.

Magic Tree House series

Island of the Blue Dolphins, Scott O'Dell

Harry Potter, J.K. Rowling

Narnia series, C.S. Lewis
Both Harry Potter and Narnia series portray two worlds where in one world the ordinary main characters become heroes.

The Secret Garden, Frances Hodgson Burnett
5. Tempt the disruption of current thinking; new hypotheses are constructed for debate and dialogue among peers.

Any board book by Chris Van Allsburg
These are picture books.

Inkheart, Cornelia Funke

Claudette Colvin: Twice Towards Justice, Phillip Hoose
This is a fabulous, non-fiction book about the teenage pre-cursor to Rosa Parks.
6. Present dilemmas to be solved; careful observation of the data and evaluation of the importance/value of the contributing of actors must be analyzed, synthesized and absorbed.

Miss Rumphius, Barbara Cooney

The Quiltmaker's Gift, Jeff Brumbeau and Gail de Marcken

Rosalind Franklin, Scientists Who Made History, Cath Senker (Non-fiction)

Swiss Family Robinson, Johann David Wyss
What do you think? What elements of a reading program for gifted children would you like to see introduced. Tell us in the comments.
And please, if you enjoyed this article, share it with your friends on Facebook, Twitter, Google+ and even Pinterest because people always love to receive good book recommendations. There are sharing buttons below.
And please consider 'liking' my Facebook page for more valuable information about emotional intelligence. I would so appreciate it! Thank you.